Premium's 'Air-Filled Alternatives' to Helium-Filled Balloons
Use 'Free Air' to provide solutions to the shortage of helium! 
 Create beautiful Air-Filled Centerpieces 
With Premium's NEW AIR-FILLED FOIL AND LATEX  CENTERPIECE KITS. 
This unique system supports large, air-filled jumbo shaped foil or latex balloons AND ELIMINATES the need for HELIUM!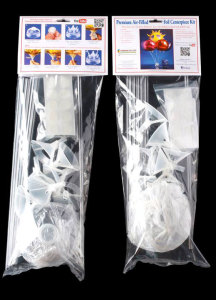 1-kit contains all the balloon accessories to create 1-beautiful centerpiece that will last weeks. No need to refill helium when it leaks out to keep balloons full. Just Add Balloons of your choice.
The MaxiCup™ II has a large "Oval-Shaped" balloon holder for improved support of jumbo shaped foil balloons. The 20" MaxiStick™ II is made from a special, Clear, high-impact, engineered grade material for maximum strength, rigidity and support.
The MaxiBase™ II+ Premium's Adhesive Gel-Tab allows firm attachment to any surface, perfect support for the MaxiCup™ II & MaxiStick™ II.
The NEW MultiBase™ Display accepts the MaxiBase™ and when filled with water becomes an anchor to easily display your air-filled balloons in any retail or party situation. Weighs only 30-grams empty and 625-grams when filled with water. Can be filled with marbles, sand, candy or just color the water for a stunning effect!
Premium's Air Filled Foil and Latex Kits may be purchased in a Retail 5-pack to a case or wholesale pack of 10 bulk per case. Simple assembly instructions are included.
Use Premium's Mini Cool Aire® Dual Pro™ Inflator to quickly inflate foil and latex balloons. It is the ONLY 2-speed inflator designed specifically to prevent damage to self-sealing foil balloon valves when inflated with air.
Low Speed for Low-Pressure inflation of foils with the coolest air. Power consumption is reduced by 50% in this mode.
High Speed for High-Pressure and fast inflation of latex balloons.
Please visit 'Great Balloon Ideas and Recipes' on Facebook sponsored by Premium for air filled product designs by Professional Balloon Artists John Preston and Peggy Butland.
Purchase Premium Air Filled Foil and/ or Latex Kits from Premium's distributor network. Visit www.premiumballoon.com for a list of distributors and to view all of Premium Balloons great products. Contact Premium at info@premiumballoon.com.