Five-story/50,000-balloon beanstalk drew 10,000 visitors
David Lima (Bergen County resident) + 75 artists from around the world built Rochester, NY sculpture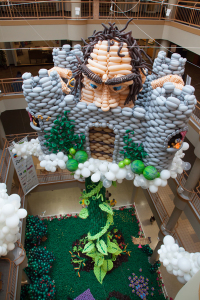 David Lima owner of bambaballoon joined 75 other artists from around the world to build Balloon Manor 2014:  The VERY Tall Tale of Jack and his Beanstalk in Rochester, NY's historic, downtown Sibley Building atrium, February 1-4, 2014. This was the long-awaited fifth Balloon Manor from Airigami, an art studio specializing in "the fine art of folding air," and founder and creative director Larry Moss says that almost 50,000 balloons were used to create the five-story sculpture.
"Like our other Balloon Manors, this one was built by artists from as far away as Russia, Singapore, Australia, Ireland and Spain," explains Moss, who has been world-renowned for his large-scale, community projects  for 15 years.
I am always trying to go crazy on the size of my balloons and building crazy balloons Installations, and participating on a project this big is just too
much fun. The size and beauty of balloon manor was just amazing, and all the friends I made on those 4 days. It was just like a dream, but I was actually there with everyone building a Giant sculpture with so much happiness and being a kid again. It was hard to say good bye. Now I am home and ready for the next big challenge.
I am the owner of bambaballoon located in Hillsdale, NJ. I am originally from Sao Paulo, Brazil. I live here in Hillsdale, NJ with my wife and 2 sons.
The completed public art installation was on view from February 5-9, and drew approximately 10,000 visitors, who were able to "climb" the beanstalk from the ground-floor garden to the giant's fifth-floor castle in the clouds via an escalator. Viewing of both the construction and the finished Manor were free. Additionally, Young Audiences of Rochester provided free performances and family-oriented activities featuring their teaching artists in the Sibley atrium. A Popping Party on Monday, February 10, drew more than 200, who each paid $10 for a chance to pop as many balloons as they could in 3 minutes. Prize coupons were hidden within some of the balloons, and participants learned how to build their own balloon sculptures while they drank soda "pop" and munched on "pop"corn!
While former Balloon Manors (2004, 2006, 2007 and 2008) all had a haunted house theme that coincided with Halloween, this one is inspired by a fairy tale image from Airigami's  Once Upon a Time series.
About Airigami: Artist Larry Moss, founder and creative director of Airigami, began his career 25 years ago as a NYC street performer, but has gone on to display his amazing air-filled art in 12 countries on four continents.  His achievements have been recognized by the Guinness Book of World Records, the Associated Press, CNN, PBS, Smithsonian Magazine, American Profile, Cabinet and Ripley's Believe It or Not!  He has appeared on The Martha Stewart Show, NBC's Today show, ABC's  Good Morning America, and at the White House three times. World-renowned for his "full-blown" installations that enchant both young and old, Larry's work brings people together as only the best public art installations can. In addition to his Balloon Manors, his accomplishments include setting and holding the world's record for the largest, non-round balloon sculpture Soccer Players, (Belgium, 2000) as well as building and launching the world's first piloted latex balloon sculpture  Fantastic Flying Octopus, (Sodus Point, 2003). In 2009, Larry and new Airigami partner, Kelly Cheatle, began creating dimensional illustrations that combine balloons with photography and design. The pair turned Master Works – a series of 12 tributes to iconic masterpieces that have gone "viral" internationally – into a children's picture book entitled  Artist Eyes in 2011. Next, the duo created Once Upon a Time, a series of ten works inspired by childhood fantasies and fairy tales, which resulted in their second picture book, And He Puffed: An inflated story of the Three Little Pigs. Airigami's balloon-based, illustrative work for Ogilvy & Mather in India's Celebrate Bandra festival won a Silver Abby Award, and the duo was invited to work with those masters of claymation, Aardman Animations (Wallace and Gromit, The Pirates:  Band of Misfits) at the world's largest ad festival, the Cannes Lions International Festival of Creativity in France in 2012. In 2013, Larry and Kelly created The Cookie Chronicles, a series of three short videos for Oreo (which they dubbed "Oreogami"), as well as a 20-foot Elastic Park Acrocanthosaurus  for the Virginia Museum of Natural History. They recreated Fragonard's The Swing in 3D at Phelps Arts Center, Bouguereau's Young Priestess at Rochester's Memorial Art Gallery, and built a giant dragon at Rochester's National Museum of Play that was transported to the Brooklyn Children's Museum on a Christmas Eve edition of A&E's Shipping Wars.
David Lima, Owner and founder of Bambaballoon which specializes in balloon twisting for any event, making balloon sculptures of anything possible and impossible.