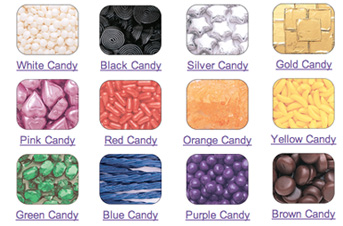 Let's say that you're planning an extravagant wedding with 300 guests. You want to impress them with an over-the-top candy buffet displaying mountains of candy. The trick is, you want the candy colors to match your brides maid dresses which just so happen to be pastel pink, your favorite color. President Christopher Pratt says, "CandyWarehouse.com makes shopping easy for creating stunning candy displays." One can just browse the pink candy section of the catalog or website and create a candy masterpiece.
Plus, CandyWarehouse stocks all the old fashioned glass candy jars, candy bags, and metal scoops that you need to display and distribute your sweet selections to your party guests. Springtime is perfect for designing colorful candy bouquets with the largest selection of lollipops on the planet. They've got many different pop shapes such as sea shells, roses, pansies, tulips, sunflowers, and hearts, all on long flexible sticks that makes creating a candy bouquet a snap. Plus giant swirl pops in pastel colors and organic ingredients. Make a statement with a combination of candy jars and giant swirling suckers as table centerpieces. A new fun item at CandyWarehouse is giant pink and white marshmallows. The perfect sweet, soft, and squishy party favor that looks fantastic in a bulk display jar.
Or for more formal occasions, you can shop the all black and white candy sections. CandyWarehouse.com has exclusive new products featuring black and white stripes with flavors besides the typical black licorice flavor: peppermint, marshmallow, and black cherry. This is the newest concept in candy buffet design and CandyWarehouse is on the cutting edge of this candy trend. There are 12 candy color sections: White, Black, Silver, Gold, Pink, Red, Orange, Yellow, Green, Blue, Purple, and Assorted. So if you want to be fashion forward with your event design, head on over to the CandyWarehouse.com Shop by Color section and start shopping.
About Candy Warehouse
CandyWarehouse.com is a bulk candy super store that sells a wide variety of candy favorites. The online candy store has products arranged by category such as nostalgic & old time candy, by brand such as Willy Wonka candy, and by holidays or special occasions such as baby shower candy. The company has been serving loyal customers for 8 years with fresh candy shipped fast
.