More than half of Americans say that it's important to shop for Valentine's Day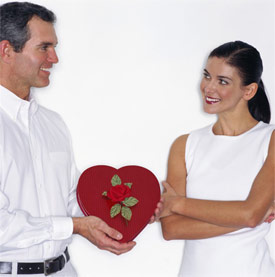 Ebates.com
, the pioneer and leader in online cash back shopping, today announced findings from its 2014 Valentine's Day Survey. The nationwide survey, conducted online in January within the United States by Harris Interactive on behalf of Ebates among 2,000 adults ages 18 and older, discovered the top Valentine's Day gift choices of Americans—and how they differ based on gender. In addition, the survey also revealed top reasons a majority of Americans think it's important to shop for Valentine's Day.
The survey found that men's top choice was a gift card to their favorite store while women most wanted to receive flowers for Valentine's Day. What we failed to see are balloons in their findings…
According to the survey, more than half (59%) of Americans say that it's important to shop for Valentine's Day. Adults selected the following reasons as the top choices for why they shop:
A Valentine's Day gift is an expression of love to their significant other – 36%
Giving a gift makes them feel good – 26%
It's a tradition they like to follow – 19%
Their significant other is expecting a gift and will be upset if they don't buy one – 8%
"We wanted to make Valentine's Day shopping for loved ones as easy as possible by highlighting popular gift choices. Every year shows a different wish list from the man or woman in your life and the real data we have here about gifts people want will help our shoppers make the right call on gift giving to their Valentine," said Kevin H. Johnson, CEO of Ebates.
Ebates.com is offering special Valentine's Day promotions to save on gift purchases. Visit Ebates.com for more information. The free Ebates.com app for iPhone is available for download at iTunes for shoppers who prefer to browse and shop on the go.

Survey Methodology
This survey was conducted online within the United States by Harris Interactive on behalf of Ebates from January 14-16, 2014 among 2,035 adults ages 18 and older. This online survey is not based on a probability sample and therefore no estimate of theoretical sampling error can be calculated. For complete survey methodology, including weighting variables, please contact Alessandra.Nagy@Grayling.com.

About Ebates.com
Ebates.com rewards consumers with cash back on purchases while also providing access to thousands of coupons, discounts, promotions and special deals, including free shipping, at over 1,600 retailers. Free membership allows consumers to shop online at their favorite retailers while earning a percentage of every purchase they make, paid quarterly in the form of a "Big Fat Check" or through PayPal. From niceties to necessities, members of Ebates benefit from incentives at top-name merchants for everything from furniture to fashion and appliances to airfare. Because shopping with Ebates is hassle-free – no rebate forms to fill out and no points or miles to redeem – the site supports a strong community of savvy shoppers across the country and around the world.