More than 40% of respondents say they "always" look for coupons for gifts
1 in 5 say they've turned down a birthday invitation because they didn't want to buy a gift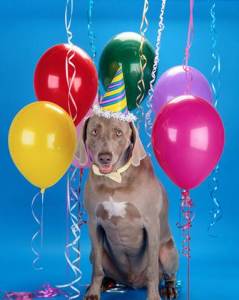 Valpak,  the company that sends The Blue Envelope each month filled with savings and coupons, is turning 46! To celebrate, they're throwing a P-A-R-T-Y all month long with a sweet little sweepstakes. Consumers can register for a chance to win a $5,000 party prize pack or one of 46 other prizes (worth up to $100 each) for tweeting about their favorite party memories on Twitter.
Envelopes mailing now through Sept. 15 will invite consumers to join the party at Valpak.com/party, where they'll find saving on food,entertainment, venues, flowers, décor and more.
To start the birthday festivities, Valpak polled consumers* and asked what they spend on parties, what are the best parties and some other nosey questions about how they really feel about parties:
Keep the food coming: Nearly 9 in 10 of people spent most of their party money on food & drinks
We like convenience: Panelists most often purchased party supplies from:
49% big box retailers
37% from party supply stores
We like to save money: When shopping for gifts, panelists looked for coupons and discounts:
40% always
35% if they could find one
22% sometimes
6% never
We can be cheap: Of panelists, 1 out of 5 had declined a birthday party invitation because they did not want to buy a gift.
It's my birthday so let's party:  In the past 12 months, panelists have thrown parties for:
36% birthdays
14% Christmas/Hanukkah/Kwanzaa
14% Fourth of July
  8% Super bowl
We still like to spend:   When throwing parties panelists spend:
29% $50 to $99
40% $100 to $249
Get out of my home! 67% agree that most children's birthday parties nowadays are held at a venue as opposed to someone's home
Kick it up a notch! Panelists believe children had the most fun at birthday parties when the party included:
26% sports event/activity
23% organized party  experience (i.e. game center, salon, craft center)
22% bounce house
For more information on birthday parties, please visit the Behind the Blue blog:
Valpak has been in the business of helping people save money for more than 45 years and is known for its local coupons in North America. Recently, Valpak has been leading the industry in mobile couponing, serving up mobile savings through apps and incorporating the latest technology. Valpak has shown an ongoing commitment to be on the forefront of technology with its mobile app presence in the mobile environment and its first-to-market integration into four mobile wallets, including Passbook, Microsoft, Samsung and Google.
*Responding panelists from the Opinion Connection® July 2014 were primarily female, age 35+ and had an annual household income of $35,000 or more.
About Valpak®
Valpak, one of the leading direct marketing companies in North America, is owned and operated by Cox Target Media. With nearly 170 franchises across the United States and Canada, the signature Blue Envelope® delivers coupons and savings to nearly 40 million households each month. Annually, Valpak will distribute some 20 billion offers inserted in more than 500 million envelopes. Valpak also offers digital solutions online through http://www.valpak.com and http://www.valpak.ca, sites offering free coupons, e-commerce and coupon codes. Additionally, the Valpak coupon mobile coupon app for smartphone platforms delivers easy to find savings for consumers. For more information about advertising with Valpak, please contact 1-800-676-6878.