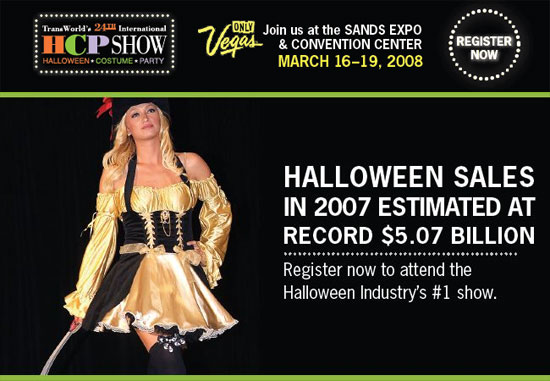 HCPShow is held with the Haunt & Attractions Show featuring: Large scale animatronics, Special effects, Specialty lighting, Haunted house design and installation and The Dark Zone, a full-blown haunted effects environment.

Room Blocks are filling fast! Book Today! We've reserved a block of hotel rooms to fit every preference and budget, from basic travel to deluxe accommodations. Our travel partner, Globetrotter, can help secure the best deal possible. Call them at 888 696 7535 or click here .

HOT TRENDS TO WATCH FOR HALLOWEEN 2008

Licensed products are at the top of everyone's list for Halloween. Leading sellers are characters from the latest big and small screen successes. Including: Ugly Betty, Dancing with the Stars, Blades of Glory, Shrek, and more.
Pet costumes
Take Fluffy along for the Trick-or-Treat fun dressed as a super hero or fairy princess. There are hundreds of options.
Adult costumes
With more adults getting into the Halloween fun, trends show you're never too old to step into an alter ego.
Sexy costumes & accessories
Women of all ages are buying sexy costumes, and what's a great outfit without the right accessories!