They can be used with wrapping paper or stuck directly onto a bottle of wine or spirits, a box of chocolates, or a bouquet of flowers. Bow Stickers even come with a "To: and From:" that's attached to the bow.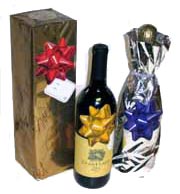 Bow Stickers are perfect for boxes that are being mailed or shipped for the holidays or special occasions. They'll stay looking cheery and bright no matter if the gift, bottle, or box travels one mile to the gift recipient or a thousand miles. The Bow Stickers 12 pack is $2.99, 30 pack is $6.95, and a 50 pack is $11.95.
Bow Stickers are available at www.bowsticker.com or by calling 800-423-5487
So Many FUN Ways to Use Bow Stickers!