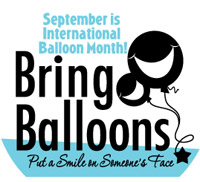 The International Balloon Association (IBA) has declared the month of September as International Balloon Month! This exciting month-long event will promote the balloon industry and raise awareness of balloons as they are used in the floral, party goods, and event industries.
Manufacturers, distributors, retailers, decorators, and entertainers who take part in this challenge will benefit from increased sales. However, it will take everyone's involvement to make this a successful initiative that can be built on each year.
For more information on what YOU can do to promote International Balloon Month, call 866-413-7358 or visit www.ibaonline.net .