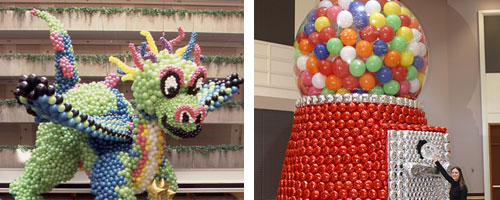 This can't-miss event will also include original centerpieces, balloon deliveries, and unique balloon figures designed for competitions held during the first-ever World Balloon Convention (WBC), host of the Festival of Balloons. Attendees will be astounded by charming balloon entertainers, and they'll even have the chance to purchase colorful, helium-filled balloon creations—like balloons inside balloons—to take home for themselves.
"The Festival of Balloons will give the general public a chance to see firsthand the possibilities of balloons as an artistic medium," said Julie Conner, event coordinator. "You can do so much more than tie them to a weight with ribbon!"
Public admission to the festival is $5; children 12 and under are free. Photos at the event are allowed and encouraged. The Sheraton Dallas Hotel is located at 400 North Olive Street in Dallas.
WBC and the Festival of Balloons are produced by Pioneer® Balloon Company, maker of Qualatex balloons, Wichita, KS. For a sneak preview, go to http://www.youtube.com/watch?v=yM9bmbgHO0c .