NBC's The TODAY SHOW has confirmed they will be joining us this year. We're proud to have been a part of putting this together and we're sure it will be a big boost to our industry.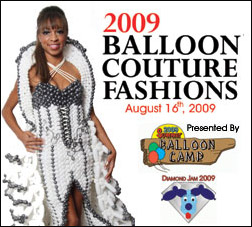 Our special guest and celebrity model this year will be Jenna Wolfe Correspondent and weekend anchor for the NBC Television show. Jenna will be joining us, with her film crew, to so do some special features on the Fashion Show, Diamond Jam and Summer Balloon Camp. They will be filming from Friday until Monday to cover the classes and activities at the events. The 2009 Balloon Couture Fashion Show has a few spaces left for competitors vying for the "Top Fashion Designer" Award.
So if you're a dressmaker or want to be a dressmaker now is your opportunity to show your talents and skills to the Balloon Industry and the public. There's no cost to be a part of the Fashion Show competition. Just be registered for either Diamond Jam, and have a dinner ticket for the show, or register for Balloon Camp.
All the information is on our web site (www.ballooncamp.com ).
Hope to see you there!