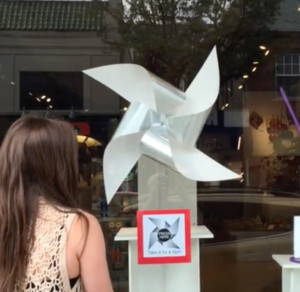 Selected by the Hour magazine readers as the best place to buy art in SE Michigan, the BluArch Collection continues to build bridges between the arts community and the public. Among the store's new additions is an interactive window display – the Pinwheel – that has already turned many heads. The Pinwheel spins at the touch of a button, gently encouraging people to step inside and see what else the BluArch Collection has to offer.
"We always strive to create an immersive experience for our customers," explains owner and resident artist Chuck Krause. "The Pinwheel is the fifth kinetic/interactive display we've featured in the store. These displays give people an idea of the unique and creative items we sell at the BluArch Collection. We're more than just a gallery; we make customers want to return and see what's new."
You can view the Pinwheel in action, here:
http://www.dropbox.com/s/6yzuhfzr4k2r9nf/pinwheel_iMovie2.mp4?dl=0
Krause and his sister Betty Ruddy launched the BluArch Collection in 2010. The gallery and store is the culmination of a lifetime dedicated to art and design. Today, the BluArch Collection features an assortment of handmade, modern and chic art representing a range of media, including glass, metal, wood and ceramic. The work of both national and local artists and artisans is showcased.
A constantly evolving inventory makes for a dynamic shopping experience for local residents. At the same time, the BluArch Collection's reputation has grown such that visitors come from across the nation and the world to see what's inside.
A gifted artist in his own right, Krause believes that art is a vital element in a healthy community. He envisions the BluArch Collection as a means to provide beauty and wonder to those who need it. Many of the pieces in the store are of his own design.
Although they can't spin the pinwheel, online shoppers can still find and buy art, decor and gift items from the BluArch Collection website.
About BluArch Collection
BluArch Collection was founded in 2010 by Chuck Krause and Betty Ruddy (brother and sister). Chuck manages, oversees purchasing and designs exclusive pieces for the store. Both have a passion for functional, modern design.
Contact: 
Chuck Krause, Owner/Manager/Designer
BluArch Collection
142 West Maple Rd.
Birmingham, MI 48009
cell phone: 248-933-4370
Email
bluarchcollection.com