"Mind-blowingly awesome!"
"Phenomenal."
"A wealth of ideas and inspiration."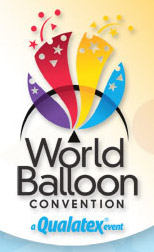 These are just a few of the words that delegates used to describe the World Balloon Convention 2010. We missed seeing you there, but now you have another chance to attend this incredible Qualatex event!
Pioneer Balloon Company is excited to announce that a date for the next World Balloon Convention has been scheduled. Mark your calendars for MARCH 21-25, 2012, when the WBC will return to the Sheraton Dallas Hotel in downtown Dallas, TX, USA.
From inspiring classes and competitions, to incredible parties and networking opportunities, you won't want to miss out this time!
Registration for the World Balloon Convention 2012 is not yet available.
For more information and the latest updates, visit http://www.WorldBalloonConvention.com