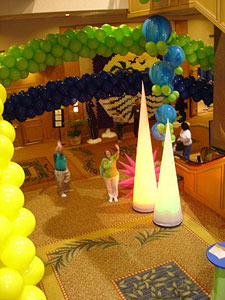 WCE&BAC has many opportunities available for promoting your business through advertising, marketing and/or sponsorship. We have sent out informational packets to many distributors within the industry. If you have not received yours please notify us and we'll be happy to send you one.

Choose the right plan to fit your company's needs. Once you've decided to participate in WCE&BAC we'll send you an Exhibitor/Sponsor Information Packet with all details and forms required for a well organized show.

We want the distributors to have as many advantages as possible to generate revenue. Not only are you allowed to sell products to attendees during the show but this year we've implemented a new "Distributor Discount Program".

The "Distributor Discount Program" is an incentive program that gives you a percentage off of your booth space cost every time you enlist a full paid delegate. How it works: for those Distributors who attend and would like to participate WCE&BAC 2011 would be given "Distributor Codes" to hand out to those who are interested in being a full paid delegate. It will be for a limited amount of people (20) and for a limited time (March 31, 2011). You'll be given 50 discount codes in order to offset those who ask for a code but do not sign up. The benefits are threefold; for every full paid delegate (with or without hotel) that signs up with WCE&BAC, we'll give them $50 off the early bird rate. Your benefit is a sliding scale to reduce the cost of your booth space.

The breakdown for the booth space discount is as follows:
5 full paid delegates 10% off of your booth space cost
10 full paid delegates 20% off of your booth space cost
15 full paid delegates 25% off of your booth space cost
20 full paid delegates 50% off of your booth space cost – That's only $500 for you booth space with 20 full paid delegates!!

If you wish to participate, please let us know and we'll send your assigned codes, along with a distributor packet, brochures and registration sheets for the convention to hand out to your customers. Delegates need only to fill in their valid, assigned code on their registration sheets in the Distributor Code box to get their $50 discount. Once they have signed up and paid in full we will credit your booth discount accordingly. We hope this helps in creating a successful show for all and we look forward to building a strong and healthy relationship.

If you have any questions, or if we can be of service, please feel free to contact us. The entire WCE&BAC team looks forward to working with you to make this show a HUGE success. Thank you for your support.

Sincerely,

Amanda Armstrong, Executive Producer
West Coast Event Productions, LLC West Coast Event & Balloon Arts Convention
Phone (949) 293-3833 FAX (949) 461-0717
BOOTH PRICING
10×8 – $1,000
Exhibitor Booth after June 25, 2011 – $1350

YOUR INVESTMENT INCLUDES:
8' x 10' Tradeshow booth package
Blue (black available upon request) pipe and drape
One draped 6ft. table
Two chairs
Company Header sign
One wastebasket

Also Included in
Exhibitor Package:

Educational package
Your company will receive TWO Educational badges for access to all of the classes ($650 value)

Company marketing package
25-word company description in WCE&BAC delegate binder (Company to provide description by March 31st)
Company name and link on WCE&BAC website – www.wcebac.com


2011 will bring more excitement with new and unique opportunities to showcase your company, service and products. The event and balloon professionals attending our convention tell us that finding new vendors and gaining event ideas is a priority in their businesses. WCE&BAC brings attendees quality education through experienced industry instructors, challenging competitions and fun-filled activities and special events!

Set your company apart from the competition and position yourself as an industry leader. Connect with new customers by joining us July 8 & 9, 2011 at the OC/Costa Mesa Hilton.

SPONSORSHIPS AVAILABLE AT WCE&BAC

Prime positions for booth locations are reserved for our sponsors. Get high visibility throughout the Convention & Tradeshow, attracting customers to your company first.
Reach your target market through sponsor-only marketing opportunities including event participation, product launches, instructor sponsorships, focus groups, product demos, bag inserts and more.

For more information or to Register for your Exhibit Space or Sponsorship call Amanda at (949) 293-3833 or visit: www.wcebac.com

West Coast Event & Balloon Arts Convention 2011, July 8-10, 2011